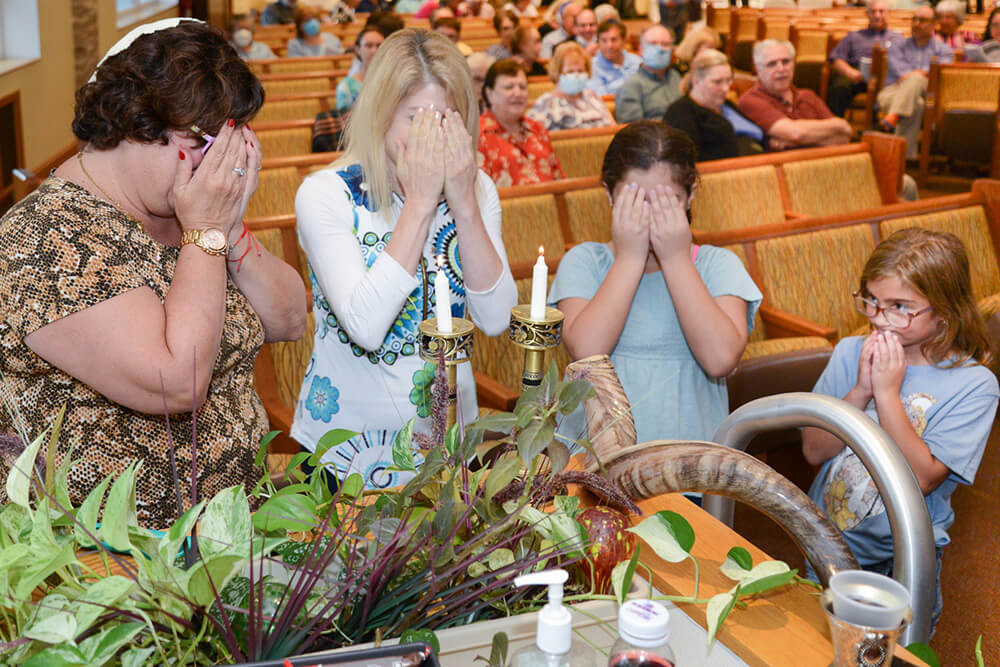 We have many meaningful and spiritual services that elevate the spirit, enlighten the mind and brings us together. Join us and be inspired.
The Shabbat morning service combines worship and learning in both Hebrew and English with a feeling of fraternity in a sanctuary that creates a sense of intimacy and reverence. The Kiddush that follows the service extends the opportunity to strengthen personal ties. On the last Saturday of each month (October through June) students of our Religious School hold their own special Shabbat Service and then join the main service for the concluding prayers. Additionally, we present an American Sign Language Interpreter during Saturday morning services on the 3rd Saturday of each month and on the last Shabbos service of the month we celebrate anniversaries and birthdays by receiving a joint Alliyah. 
Friday evening services have their own special quality when families and friends join together to welcome the Shabbat. Oneg Shabbat (tea and cake) follows the services. As a congregation we are proud of the fact that many of the groups within our congregation sponsor and lead Friday evening Shabbat Services throughout the year. These services offer another opportunity for the members of these groups to come together for prayer and fellowship.
The Daily Morning and Evening Minyans provide the opportunity to fulfill traditional religious obligations. Besides providing daily prayer services for those who seek it, the minyan ensures that the regular reading of the Torah continues and that the Kaddish can be recited by those in mourning or recalling yahrzeits.
Jewish Festivals and Holidays are celebrated in the synagogue throughout the year and encompass the entire cycle of Jewish Celebration and Commemoration including:
Rosh Hashanah, Yom Kippur, Sukkot, Shemini Atzeret, Simchat Torah, Passover, Shavuot, Chanukah, Purim, Yom Ha'Atzmaut,  Lag B'omer, Yom Hashoah,  Tu-Bshevat,  Tisha B'Av and  Yom Yerushalayim. We also participate in the Wantagh Clergy Council's Thanksgiving Eve Interfaith Service that includes the faithful from different houses of worship.
There are numerous other deeply moving and spiritual services conducted throughout the year. Please refer to our High Holiday Guide for a full list.